Listing your pieces on multiple marketplaces is critical for increasing online sales. Also critical is having a professional website. Most buyers do an Internet search on a company before purchasing from them. If you don't have a professional website, you risk potential buyers thinking you're not legitimate. 
Website building from a pro can be an expensive proposition, but there are simple ways to get a website launched that are affordable. You can build it yourself or with a little help from a tech-savvy friend or relative. You don't need to know much to build a beautiful website at very little cost.
There are countless solutions available and the vast majority of them offer very similar features. Some excel over others but to determine the best fit we first need to start with determining what type of website is right for you!
eCommerce Websites
eCommerce (electronic Commerce) websites are primarily focused on displaying your collection(s) with the focus of enticing the buyer to buy directly from your website. The design focus is typically very clean and easy for the dealer to locate what they are looking for, be provided information and images, and have a simple way to contact you or buy directly on your website.
Squarespace*: Squarespace allows you to showcase our stock so visitors can browse, add items to the shopping cart, and check out quickly. This e-commerce site builder has integrated systems that allow you to manage all the logistics, with built-in tax tools, secure checkout, and specialized techniques for reviving customers with abandoned carts.
Shopify*: Shopify wins the battle for a simple online store. You can choose from a vast array of free themes, or purchase a premium theme. Each theme allows you to create a customized online store and comes with a slew of features that help make selling online a little easier. You can create customer groups to track location and purchase history, and that's really just the beginning of what they offer.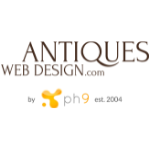 Antiques Web Design by ph9: Antiques Web Design believes websites should be easy. Built with dealers in mind, their system was created specifically for the antiques industry, with features you're not likely to find in the more generalized platforms.  There's a beautiful range of ready-made themes that you can easily edit yourself or have them customize. Bonus: They show each dealer how to upload stock, and provide ongoing help, support, and assistance. 
LoveAntiques*: Love Antiques Website Builder enables dealers to create their own website through the portal, allowing seamless stock integration with Ronati and LoveAntiques.com. Website design for antique dealers has never been more affordable and simpler to use. With no contract or set-up fees you can easily put your stamp on the industry.  There are many website templates to choose from, each customizable, to add your own unique look and help increase your brand awareness. 
Brochure Websites
The most basic type of website is a "brochure" website. This is essentially a digital version of a printed brochure. These sites promote your business and can have multiple pages. If a prospective buyer becomes interested in an item on one of your marketplaces, or in you or your shop, and enters your name or business name into a search bar, they can find your website and learn more about you. Your business site is essentially your online storefront. 
A brochure website provides online visibility, legitimacy to your business and allows users who want to find out more about your business the information you want them to know. 
Wix: Wix allows you to create a brochure website in the easiest way possible. They provide over 500 templates, and you can drag and drop images and content to personalize it. The websites are mobile-friendly and appear as they should on a smartphone or any digital device.
Weebly: Weebly offers a wealth of designs and functions, and allows you to create a custom website fairly easily. It is fully hosted, so you don't need to worry about keeping up with changes – they take care of it. It offers some nice features for contact forms, galleries, sliders, and many people find it to be the easiest DIY website builder for beginners. You can also turn your website into an online store once your brochure site is up and running.
Blog Websites
Antiques buyers are blog-readers, and you can take advantage of it! Posting a blog every week on subjects that interest you, such as your latest find, the history behind a piece, or your adventures on the road, along with images, can be a real attraction for online buyers interested in antiques, vintage, or one-of-a-kind pieces. 
Building a website that presents your blog can drive more traffic to your site, enhancing your online profile – but you need to keep posting!
WordPress*: WordPress is among the most popular of all website building programs and is used the world over by both beginners and professionals. This program offers hundreds of themes, widgets, navigation menus, and other fun features. The website builder is free, but you will need a domain name and web hosting for your site. Add your blog right from the website building dashboard, and you are ready to go.
HostGator: This website builder is hosted and has a simple point and click interface, along with drag and drop for images, videos, your gallery, text, maps, and contact forms. You may appreciate having your site building and hosting all in one place. You'll discover publishing a blog is not complicated with this program.
Taking the time to think about both your immediate needs and future plans can save you a lot of time and money before picking a solution.  As we mentioned above, most solutions offer the functionality of all three types of websites, but some excel over others in the overall website type.
* The Ronati eCommerce Manager is being developed to integrate with these solutions
Adding Instagram to Your Website
Instagram is one of the best social media platforms for promoting and selling antiques, vintage items, and one-of-a-kind pieces, and can be a nice addition to your site. The Instagram "embed feature" lets you add it with very few steps. Some programs have it built-in. 
On WordPress sites, you can find a free widget to connect it, and it will appear on your sidebar or footer. Super easy! Every platform provides a process to bring your Instagram feed onto your site, and it makes sense to do so, as you may want your customers to arrange to buy a piece you promoted through Instagram through your site. 
Shopify eCommerce sites offer "Instafeed," an official shoppable Instagram feed. On SquareSpace, you just click on the Social Accounts menu, login using your Instagram credentials, and click "save." With ready-made websites by Antiques Web Design, your Instagram feed can be integrated into a page on your website; and any stock placed for sale can directly push out to Instagram Shopping. These are just a few, but you will find that whatever website builder you used, adding Instagram is not difficult, and can really make a difference to the number of interested people landing on your site. The more they land, the more you sell.
At Ronati, we are interested in helping you make online selling a success. If you don't have a website or want to update a site that has a dated look, we hope you found this information useful – let us know!