The Art & Antiques Fair Olympia is back this month (June 23-26), and we're looking forward to all the unique finds! From Medieval works of art and Elizabethan oak furniture to ceramics, lighting, jewelry, and much more — this fair has it all.
You may be familiar with Ronati's video series "Expert Picks;" this time we've taken to our blog! If you're new to the series, our resident experts, Mark Hill and Kelli Ellis peruse pieces that will be featured at the upcoming fair and pick a few of their favorites, providing commentary behind their picks. Enjoy!
Kelli's Picks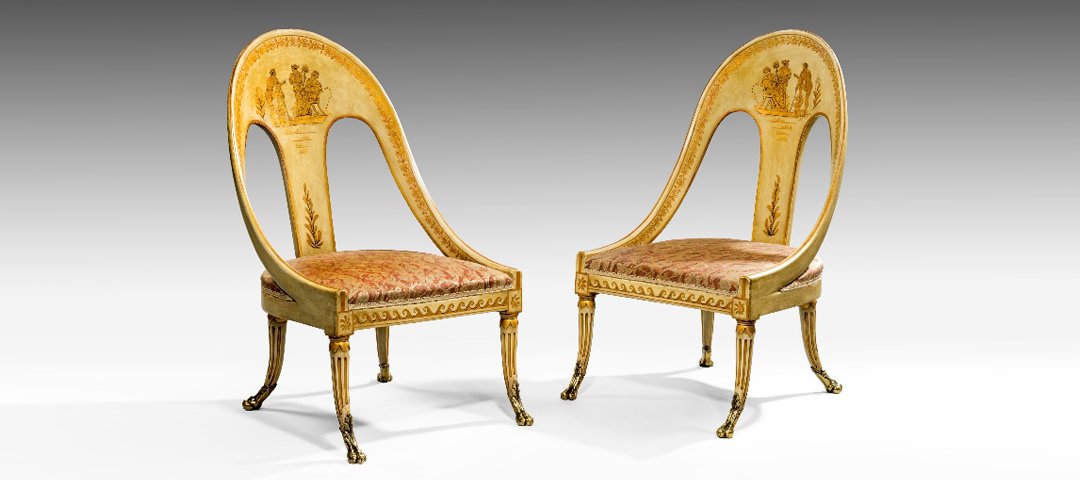 "I love chairs! I imagine the majestic rooms where they once lived. The grand parties and gatherings they've seen. Yes, I personify chairs as they all have a style and flair of the cultures they stylistically represent. Dealer Lennox Cato brings a pair of very stylish Regency period, beechwood chairs in the Roman taste. Each chair is stamped TR, Thomas Reynolds, on the underside of the seat rails. This chair maker is recorded in the 'Dictionary of English Furniture Makers 1660 – 1840'; page 738. Although there is little written about Thomas, I know he was a master craftsman as seen in these elegantly curve-backed focal points. With their gilded feet and roman motif, I am transported to a fine Italian estate. They are perfectly upholstered with a Fortuny fabric and would be a standout as the anchor chairs of a modern dining room or paired with a contemporary side table in a salon."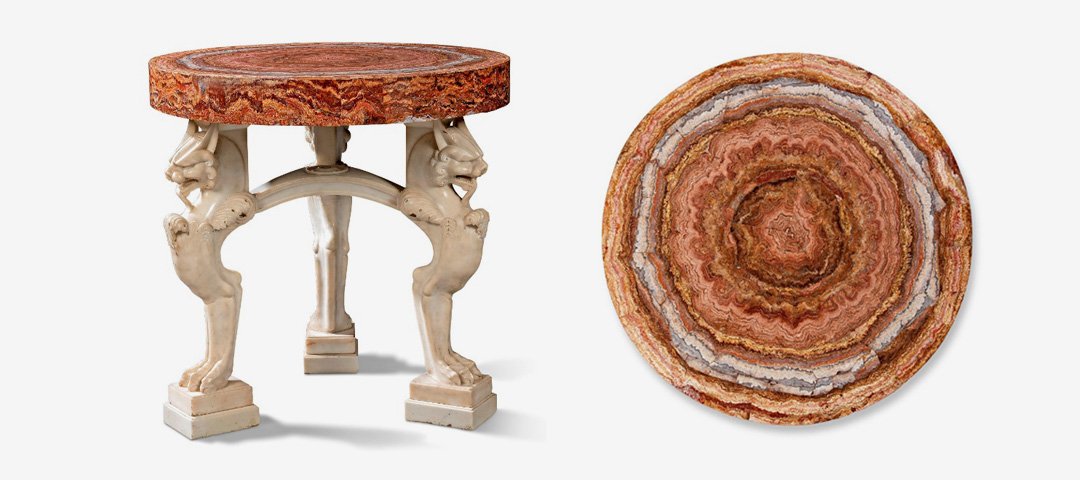 "I am mesmerized by this tabletop. I love nature's beauty so much, at one point in college I almost became a geologist. Robin Martin brings this gorgeous table with a carved marble base and alabaster top.
Alabaster is usually known as a white, translucent material ("Her skin was like alabaster") this calcite type of alabaster is called stalagmitic limestone marked with patterns of swirling bands of cream and brown. Although a Roman style, supported by lion headed supports with paw feet, this table would be a show-stopper focal point in any style room. With a contemporary Murano glass vase on top, next to a minimalist sofa, you would create instant intrigue.  Attributed to Fonderia Chiurazzi, established in 1870, was one of the leading makers of replicas in Naples, Italy."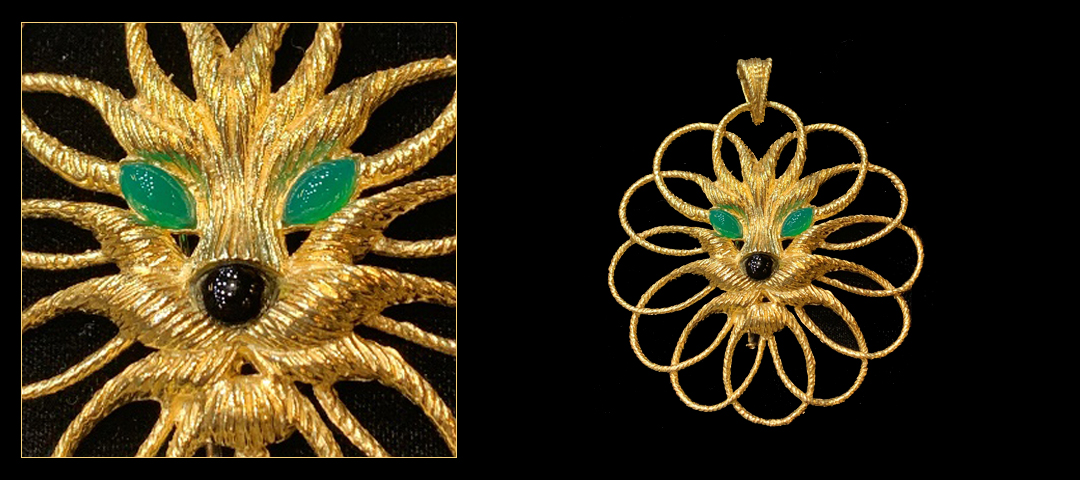 Anthea A G Antiques – Lions Head Pendant by Van Cleef & Arpels
"Sticking to my lion inspired selections, I love this lion's head pendant. I think of my grandmother, who was not only a Leo star-sign but a lover of memorable jewelry. Her "swankiest" era being the 70's, she would have loved this piece. Bold but simplistic in design, with removable bail it can be worn in several ways. Set with chrysoprase eyes and black onyx and enamel nose, textured gold mane of 18K gold, it has French Hallmarks and maker's marks signed VCA, for Van Cleef & Arpels made in the the 70's.
Van Cleef & Arpels are known for their elegant designs and timeless nature of each and every piece they create, and this lion doesn't disappoint."
Mark's Picks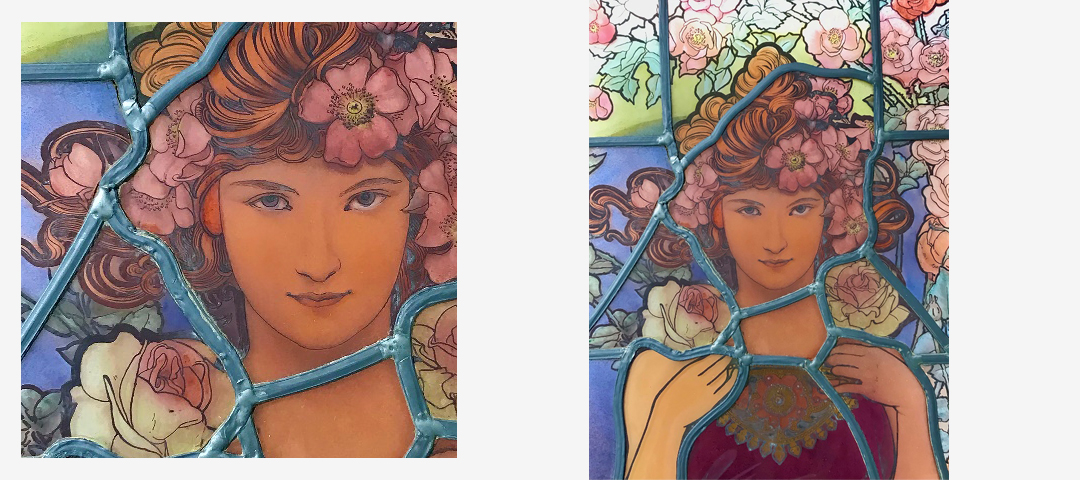 "Globally renowned Czech artist, graphic designer and illustrator Alphonse Mucha once said that "Art only exists to communicate a spiritual message." And what message does this maiden communicate to us as she fixes us with her enigmatic eyes and slight smile?
Every time I meet her gaze, she wordlessly speaks something different to me. Mucha is perhaps the most famous Art Nouveau poster designer in the world, and his much imitated (and never bettered) style shows through in the gentle colours, the choice of a rich background made up of complex curves, a centrally placed beauty, and a natural theme that is at the root of the Art Nouveau style movement.
Removed from a restaurant in Buenos Aires, this glass panel is many times rarer than a poster, and the medium of stained glass both echoes Medieval church windows and allows for tonal changes with different lights. I would never tire of looking at her – or having her look at me."

John Barkes – 'River Boat' by Vladimir Veselka's
"Often derided or ignored, I have long admired – and personally collected – art and decorative arts produced in in the former Soviet bloc from the 1920s-70s. As the Iron Curtain fell from the late 1980s onwards, a whole new series of stories in the history of art began to be revealed – art under a totalitarian regime. The artistic output of Ukrainian artists is key to these stories, and fuses many Western European movements in Modern art with a strongly Eastern European aesthetic and subject matter."
"At the time, overt nationalistic sentiment was suppressed – the Ukrainian language, anthem and flag were illegal. Supporting Ukrainian art and artists has never been more important than it is today – there's so much more for us to learn from the rich heritage of this vast and varied nation. I'm reminded of another quote by Alphonse Mucha which seems appropriate, "The purpose of my work was never to destroy but always to create, to construct bridges, because we must live in the hope that humankind will draw together and that the better we understand each other the easier this will become."

"Some objects just shout, even scream, their design heritage making them the height of desirability – and this is one. It could be nothing else than rocking Rococo. Of perfect proportions, and completely covered with curves, this carriage clock is also of quantifiable quality. The body is encased in panels of Rhodonite, a rich rosey pink gemstone, and embellished with gilt bronze mounts possibly by the French sculptor Leon Message, who is best known for his collaboration with esteemed French furniture maker Francois Linke for the 1900 Paris Exposition Universelle. Oh, Belle Époque! The Gilded Age! Add the label of Louis Comfort Tiffany, who retailed it, and the piece becomes perfect – as the laurel leaves (traditionally symbols of success) indicate. This is so much more than a functional time-telling piece, it's a sculpture – a work of art."
Attend Art & Antiques Fair Olympia
23 – 26 June 2022

Private Preview 22 June

Olympia Grand, London, W14 8UX, UK

Tickets can be purchased here

For more information, please visit www.olympia-art-antiques.com
About the Experts
Kelli Ellis is a hugely successful American interior designer, with shows on HGTV, TLC and Bravo. She has designed interiors that integrate antiques into residential and hospitality venues for the past 25 years, and devised the innovative 'Design Pyschology Coach' programme. She is the VP of Global Industry Relations at Ronati.
Mark Hill has been selling antiques and vintage online since 2000, and ran a deal between icollector and eBay Live Auctions that revolutionised the antiques industry by pioneering online live bidding in 2001. He is also an expert on the BBC 'Antiques Roadshow'. He is the Managing Director UK & EU at Ronati.