When we first met Sara Morel of Salvo, we knew she built everything on style. Just by her taste in fashion, you can see that she carefully chooses every item that surrounds her. It didn't take us long to realize it was in our best interest to join forces. Like so many of us, Sara loves the story.
"It is such a personal industry, about the pieces and people that bring them to market," says Sara. "It is hard not to get enthralled by the diverse antiques and reclamation scene."
On their 30th Anniversary, we wanted to know how such a unique and important online marketplace got started and how ongoing upcycling is vital in a growing market. 
SARA: "Our story began as a reaction to the demolitions of the 60s and 70s when masses of reclaimable materials including around 24 million tonnes of unique timbers were destroyed in the UK. This needless waste inspired the creation of pioneering businesses dedicated to rescuing materials, and the reclamation industry as we know it was born."
"One of those early businesses was Walcot Reclamation, a salvage yard co-founded in the 70s by Thornton Kay. In 1991 he launched Salvo to promote reuse by promoting the UK's reclamation network to reduce the amount of salvageable materials that ended up in landfill."
"Initially a directory of dealers to make it easier for people to buy architectural salvage, Salvo soon grew into a movement with the worldwide marketplace."
"My introduction into this world came from the personal transformation of my flat in London, which I vowed to renovate almost entirely with reclaimed materials, and then I quit my corporate fashion job to reclaim my life."
"I started Reclaimed Woman to write about my journey and started consulting for brands and individuals looking to find reclaimed and ethical fashion and interiors. Seven years ago I hadn't even stepped foot inside a salvage yard, so my renovation took me on a complete education and now my personal and professional worlds feed each other."
What types of buyers frequent Salvo? 
SARA: "Salvo is a platform for everyone from private buyers to top designers and professionals working across the built environment. Anyone can shop, source, and sell through Salvo's network. Our listings range from complete oak frame buildings to Portland stone fountains to antique lighting, and this year we are introducing reclaimed and vintage fashion."
"Salvo matches something reclaimed or recrafted with someone that wants to reuse it. Whether it's advertising antique chandeliers, alerting the trade about wanted items or developing pioneering carbon calculations to promote reuse of reclaimed materials – it is always with the same mission in mind – reclaim, reuse, repeat since 1991."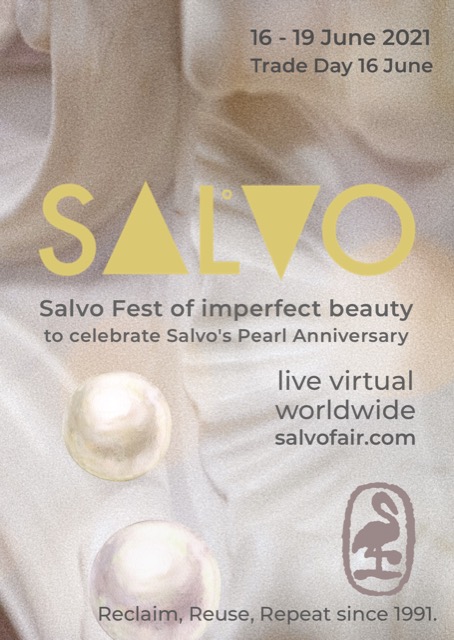 Salvo Fest: A fresh look at innovative, sustainable design – don't miss it.
SARA: "Salvo Fest of imperfect beauty is a four-day digital celebration of our 30th Pearl Anniversary with show-stopping pieces that you wouldn't usually catch at other fairs."
"You might think, not another digital event…Hopefully, we are on route to more real-life face time, so we see this Salvo Fest as the first of a new concept. Rather than digital versus physical, we are combining the magic of Salvo Fair with the ability to gather big architectural antiques and garden pieces with less heavy lifting and a smaller carbon footprint. It also opens up the event to a worldwide audience, and we are encouraging exhibitors to host their own pop-ups so that visitors can find or rediscover local reclamation showrooms."
"Salvo festival-goers will be able to shop one-of-a-kind pieces including our Pearl Anniversary collection with garden, fashion, and interiors, from Rococo fireplaces to 60s Dior earrings."
"Videos and demos released throughout the festival will showcase the trade with ideas that illuminate an attitude to embrace what's available, and use it as a design opportunity."
Register for Salvo Fest
We thank Sara and Salvo for their partnership. Salvo is a unique and important marketplace we are proud to showcase on Ronati. Please join Salvo Fest running June 16-19, launching with a Trade Day for an exclusive 24-hour preview in Salvo Fair tradition. Register free here!