Are you considering entering the online sales arena? Listing your stock on antiques, art, and vintage marketplaces is a strategy that works – but the marketplaces are not all the same. If you aren't thoughtful, you can waste your marketing budget by listing your stock on marketplaces that don't cater to buyers who could be interested in what you sell.
Choosing Your Marketplace
You have several methods to evaluate a marketplace. Each marketplace offers an overview of what they do, but factually, they will not all suit your business. Some marketplaces cater to buyers of vintage pieces, others focus on antiques, and others offer art and decorative pieces. Some marketplaces are geared to appeal to interior designers or customers with high budgets, and others have a customer base of private collectors. What's right for your stock?
The easiest way to get the information you need is by downloading Selling Online: A Guide to Vintage and Antiques Marketplaces, produced by Ronati in association with LAPADA, guided by industry experts and dealers – a two-year effort.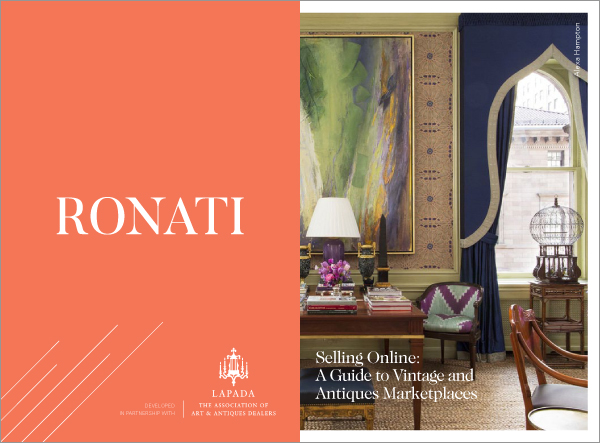 This guide provides you with the critical information you need, starting with an overview that covers:
Marketplace Name

Geographic Focus

Set-Up Costs

Fees

Commissions
Following the overview, you can look deeper into each marketplace for more detail, including:
Type of Buyers

What Sells

Requirements to Participate
Dealers who are just entering the online selling arena or those that want to increase their online sales find the Ronati Guide to be an invaluable tool. Rather than wading through massive amounts of information on every marketplace, you can find the essential details in one place. 
The team at Ronati is dedicated to helping dealers succeed. Current worldwide events have reduced the opportunities for in-person sales in a shop, at a fair, or antiques event. If you are new to online sales, the Marketplace Guide is the ultimate resource. Many dealers have avoided participating in online sales, but there is no better time to take the plunge or increase your reach to more buyers by joining more marketplaces. Remember, with over 2 billion buyers expected to purchase online this year, the more appropriate marketplaces your stock can be found on, the more likely you are to increase your sales. 
The Ronati eCommerce Manager (eCM) simplifies online selling and inventory management across multiple marketplaces. We invite you to find out more about the eCM, and you can sign up and try it for free. Your online selling experience can be smooth, productive, and help your business thrive through tough times and in the better times ahead.