On October 29, 2020, Freya Simms of LAPADA and Mark Hill of the BBC 'Antiques Roadshow' produced a webinar for dealers covering online sales. Freya and Mark discussed a range of relevant topics in detail, in a lively, informative, and easily digestible manner. 
How to Invest Your Marketing Budget: Real-World Answers
One of the many fascinating points Mark covers is very practical – how to best invest your marketing budget. Should you invest in upgrading or building a professional website or invest in participating in online marketplaces? The essence of what Mark has to say is that dealers could spend thousands building a beautiful website – but if very few buyers land on the site, it will not produce a significant return. He advises dealers to list their pieces on marketplaces as the first action, get into online selling, and invest in a website later.  
The webinar was produced to answer the questions Freya hears from dealers regarding online sales, down to the details that matter. Their discussion includes traditional marketing techniques that still work, and why. One of the most crucial points in Mark and Freya's conversation is the importance of building trust with online customers through transparency and excellent communication, building a relationship to help move the individual from prospective customer to client.
Mark also urges dealers to take advantage of the Ronati Marketplace Guide and get a leg up in online sales – he says online selling is no longer an option – it is a necessity. He has several tips for dealers about choosing marketplaces, including "niche" marketplaces. You can download "Selling Online: A Guide to Vintage and Antiques Marketplaces" for free.
As well as being an antiques expert with over 25 years in the business, many of them specializing in bringing the antiques business online, Mark Hill is the UK and EU Director for Ronati. As such, he also takes a moment to discuss the Ronati eCommerce Manager (eCM) and how dealers can significantly reduce the time spent uploading data to marketplaces, and the benefits of having a central repository for stock and easy inventory management. Offload the upload by using Ronati!
Do Not Miss this Webinar!
Set aside an undisturbed hour and enjoy the entire thing! Some highlights include how Mark makes the most of social media, an in-depth discussion of the demographics of Instagram, Facebook, and Twitter with reference to art and antiques. You'll also hear how Mark uses each platform – and how he has achieved success in those arenas with regards to online sales.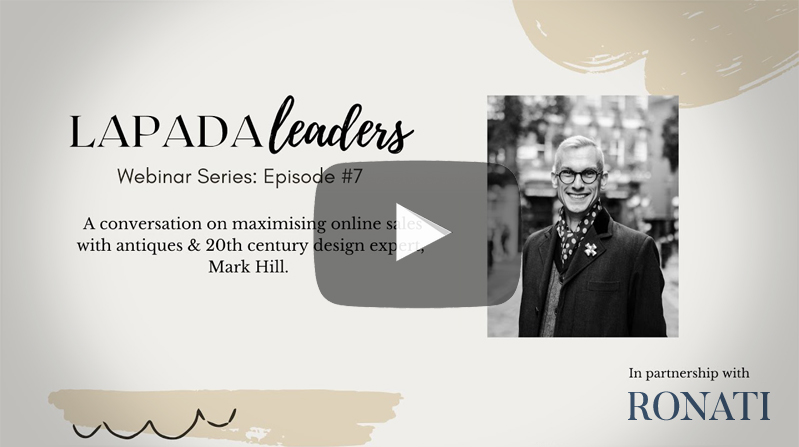 Freya Simms began her career as a press officer for Christie's Fine Art. Her history in the industry included working for Bonham's and Sotheby's, where she rose through the ranks to become the Head of Marketing, Press, & Special Events. Her experience in the industry includes becoming the Fair Director of the Olympia Art & Antiques Fair. She is the founder of Muse, a communications consultancy firm for the arts, luxury, and design industries, which won the Queen's Award for Excellence in Enterprise in 2014. Freya became the CEO of LAPADA in April 2018.
Mark Hill is arguably one of the most well-known figures in the UK antiques industry. He has appeared on the BBC Antiques Roadshow since 2007. He founded Mark Hill Publishing in 2006, producing books focused on 20th century design. Mark is the antiques columnist for the Daily Mail, and a frequent lecturer, and accredited by the Arts Society. He serves as a vetter for several international antiques fairs, including the Olympia Fine Art & Antiques Fair. He currently serves as the UK and EU Director for Ronati.